Acne makes the skin look irregular and pink in a spotty distribution when the disease is active and irregular with excavations, divets and fissures in the long term. As more than 60% of the population will be affected by one type of acne or another, this is a common problem.
Acne scarring follows cystic acne (hard, tender, deep lesions) or sometimes very inflamed pustular acne (plugged pores with pus in them). The texture of a true scar is usually firmer than the surrounding skin.
There are also different types of acne scars. For example, one type of scar, called an "ice pick" scar, leaves a deep scar with a narrow opening at the skin, as if a tiny ice pick had punctured the skin.
Other acne scars affect the surface of the skin and can have either rolling soft shoulders or sharply demarcated, almost perpendicular, box-like walls. Still other types of acne scarring may look like very enlarged pores in areas where the acne was active.
The treatment recommended would vary according to the type of scar and the amount of scarring that you have. The most common acne scar treatments are simple excision, subscision, punch grafting, laser treatments, dermabrasion, and hyaluronic fillers like Restylane and Juvederm.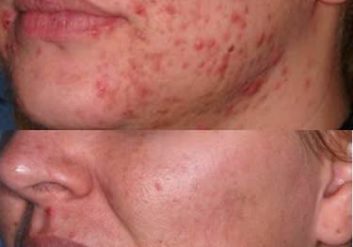 Inflammatory acne can be improved using a combination of lasers, the best being the long-pulsed Nd:YAG picosecond and 600 msec lasers. We often combine different modalities and lasers to give us the best results. Lasers do not cure acne but a substantial reduction in active disease can be achieved with reduction in scarring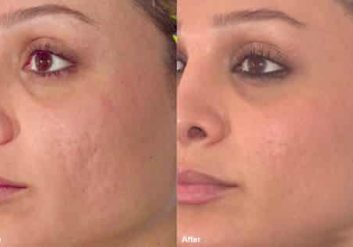 Combination of a fractionated CO2 laser for the treatment of superficial dermis and epidermis and the Picosecond Nd:YAG lasers to treat the deeper dermal collagen gives very satisfying results.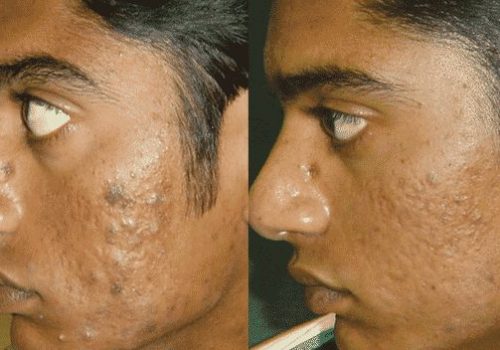 The advantage of the long-pulse Nd:YAG lasers is that they may be used in Fitzpatrick type IV skin to reduce scarring from acne as shown here. In such patients, we combine micro-needle RF delivery with long-pulse Nd:YAG lasers and sometimes fractionated ablative lasers with appropriate manipulation of the melanin with pretreatment
Dr. BCK Patel MD, FRCS
1025 E 3300S
Salt Lake City, Utah 84106, USA
(801) 413-3599 (phone/text)
E: bckpatelmd@gmail.com